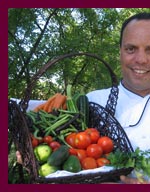 Catering



Cooking Lessons
& Presentations



Consulting Services



Meet Michael



Contact Us





Chef Michael R. Wilson
| | |
| --- | --- |
| Chef Michael is a Red Seal Chef with over 30 years of experience in the culinary industry. He grew up in Winnipeg, Manitoba and is a graduate of the Red River College Culinary Program. Michael's career has given him a wealth of experience, primarily while living in British Columbia, and provided him such opportunities as working as Chef de cuisine at La Belle Auberge in Ladner with Executive Chef/Owner Bruno G. Marti; being Team Host for Team British Columbia in 2001, President of the Canadian Federation of Cooks and Chefs, North Vancouver Island Branch 2000-2001, and Executive Member of the Culinary Arts Foundation; as well as managing a multi-million dollar resort on Stuart Island. | |
Michael's time spent working at the world-class resort provided him with international experience first as Executive Chef and then taking on the responsibilities of Director of Operations. He was responsible for offering fine dining to corporate groups as small as 30 and as large as 300 guests. His experience also includes organizing and presenting events in a variety of locations such as private luxury yachts, G-4 private jets, as well as private mansions in Montana, Palm Desert and Long Beach in the USA, and Rotterdam in Germany.
The management portfolio at the resort not only included the training of the chefs and service staff but Michael was also trusted to independently host drop-in celebrities affording him the opportunity to cater to and spend time with many interesting guests including Wayne Gretzky, David Foster, Mary Hart, Lee Iacocca, Matthew Perry, Quincy Jones, and USA Senators.

Michael returned to his home province of Manitoba in 2004 with the hopes of bringing his talent and culinary delights to the tables of Manitobans who have an appreciation for beautifully flavoured food. In 2007, Michael realized a life-long dream of being chef-owner and founded Bonne Cuisine by Michael, with partner Jolyne Jolicoeur.



Bonne Cuisine by Michael

provides cutting edge cuisine delivered with integrity, professionalism and a love of fine food and great people. It is culinary artistry without boundaries.
---
Home | Catering | Cooking Lessons & Presentations | Consulting Services | Meet Michael | Contact Us
---
© Bonne Cuisine by Michael 2016
204 793-5368 E-mail us